Meagan Smith, PBT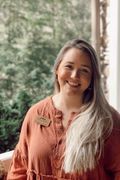 Meagan received her B.S. in Public Health from University of North Carolina at Charlotte with a minor in Gerontology.  She also received certification as a Phlebotomy Technician from Carolinas College of Health Science in 2018.  She came to The Ivey in 2019 as an intern before joining as a full time Life Enrichment team member in 2020. 
Where were you born and where did you grow up? I was born and grew up in Gastonia, N.C., until moving to Charlotte, N.C. for college.
Favorite way to spend a weekend or a Sunday afternoon? On the weekends, I enjoy spending time with my family and friends or taking day trips to explore new places. Weekend trips to the beach are my favorite!
What excites you about your work at The Ivey and the contribution you make here? I love working at The Ivey because of the delightful members and staff who I spend my time with. Being able to learn from each member and see them enjoy their time at The Ivey makes the job very rewarding. Having a small part within this organization has brought me a lot of joy and I am happy to be able to make a difference.