Nicci Roberts, MS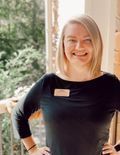 Nicci received her B.A. in English from Pfeiffer University in 2007.  She also served as an admissions counselor at Pfeiffer after completing her M.S. in Counseling and Student Development from St. Cloud State University in Minnesota.
But she truly found her niche when she became the activities and volunteer coordinator for Sunrise Senior Living in Wall Township in New Jersey.  In that position, she created and led new programs for both memory care and assisted living residents, developed relationships with local schools, businesses and social organizations, and established an active network of volunteers and community resources.  Her leadership role included recruiting, hiring, coaching, and retaining a high-performing employee team.
Where were you born and where did you grow up? I was born in Honolulu, Hawaii. My parents were in the Navy, so I've lived all over the place – Hawaii, Washington state, Maryland, New Jersey, Minnesota, and finally, North Carolina.
Favorite way to spend a weekend or a Sunday afternoon? I enjoy spending time with my family, and my basset hound, Olive.
What excites you about your work at The Ivey and the contribution you make here? I felt welcomed at The Ivey from the moment I started working here, and the members and staff have a lot to do with that. Everyone at The Ivey is genuinely happy to be here, and that spirit is contagious. Having a small part in bringing a smile to a member's face, for whatever reason, means the world to me, and motivates me to give my best each day.