Emily Underwood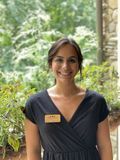 Emily earned a B.S. in Health Systems Management with a minor in Gerontology from the University of North Carolina at Charlotte. She first joined The Ivey as an intern in the fall of 2020, observing and participating in virtual services before moving onsite as a life enrichment coordinator. She is happy to be in-person with members and staff.
Where were you born and where did you grow up?
I was born in Greensboro, NC and grew up in Trinity, NC. Trinity is a very small town about thirty minutes from Greensboro. My family currently lives in High Point, NC which is only an hour away from me so I can visit whenever I want!
Favorite way to spend a weekend or a Sunday afternoon?
My favorite way to spend a weekend is going home to see my family or spending time going out with my friends. I also have a tiny dog named Meli that I enjoy taking on walks and listening to podcasts.
What excites you about your work at The Ivey and the contribution you make here?
I love being able to connect with our members and learning more about their families and what they enjoy doing. Being able to bring happiness into their lives is very rewarding and makes me look forward to coming to work every day.