Janet LeClair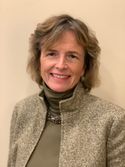 After graduating from Lehigh University in Bethlehem, Pa., with a degree in accounting and marketing, Janet moved to Atlanta and started a 25-year career in the financial services industry, 12 years of which were spent in New Jersey and now 20 years in Charlotte. She has enjoyed a very diverse work history, having spent many years in human resources, client service and operations, financial management and general management roles, primarily in the banking, HR technology/service and now the non-profit sector. Janet is also very active in the community, currently serving on both the Mint Museum's American Art Board and Ballantyne Country Club board. Previously, she served on the St. Matthew's Church Finance and Leadership Committees, the Mecklenburg Area Catholic Foundation Board, the Mint Museum Board of Trustees and The Ivey Board.
Where were you born and where did you grow up? I was born in New York City and spent my entire childhood in a VERY small town in New Jersey called Glen Gardner – population 800!
Favorite way to spend a weekend or a Sunday afternoon? Spend the evening with family and friends. Playing golf. Heading to the beach. Relaxing and reading a good book.
What excites you about your work at The Ivey and the contribution you make here? Working at The Ivey is a dream role for me. Given my mother's battle with Alzheimer's, I know firsthand the demands and challenges families face as they navigate this journey. As a member of The Ivey team, I have the opportunity to leverage my strengths and experiences to improve the quality of life for our families.