Jennifer Farrar, CNA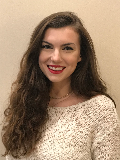 Jennifer earned a bachelor's degree in exercise science with a pre-professional concentration at Appalachian State University. She has worked with dementia patients as a CNA at a health & rehabilitation center in Boone, N.C. and volunteered at Watauga Medical Center emergency room.
Where were you born and where did you grow up? I was born in Charlotte and grew up in Concord, N.C., until moving for college.
Favorite way to spend a weekend or a Sunday afternoon? My weekends always consist of doing something active! I always prioritize spending quality time with my friends whether it be finding new things to do in the city or day trips exploring North Carolina. Most Sundays after church, I go to my parents' house to spend time with them and my grandparents and cheer on the Panthers together!
What excites you about your work at The Ivey and the contribution you make here? The moment I stepped foot into this place I instantly knew I wanted to be a part of the magic happening here. The Ivey has an atmosphere of warmth and love that is almost tangible while at the same time maintaining a culture of excellence for our members. I'm most excited, however, to love on each member who comes here and develop relationships with them and their families. I am beyond thrilled to contribute to this environment and I'm blessed that I get to call The Ivey home!