Lisa Grodi, RN, CCM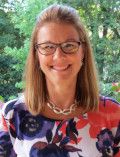 Lisa joined The Ivey in July 2014. Having achieved her RN degree from Mercy College of Northwest Ohio, she has an abundance of experience in nursing roles at St. Charles Hospital (Oregon, OH), Carepoint in Charlotte, and Atrium Health Pineville.  At Atrium Health Pineville, she served as charge nurse for a 32-bed unit, worked as a diabetes liaison, and served on the Nursing Quality Improvement Committee and the Unit Based Council.  She was also one of the head nursing preceptors.  She is a certified care manager.  
Where were you born and where did you grow up? I grew up in Grand Rapids, Ohio, 45 minutes west of Toledo. I lived there all my life, until moving to Fort Mill in 2009.
Favorite way to spend a weekend or a Sunday afternoon? Spending time with my family – either in the woods or on my bike! I love to be outdoors.
What excites you about your work at The Ivey and the contribution you make here? I love my role here at The Ivey. Not only can I build relationships with our members but also with our families. I take pride in helping our families with their loved one's medical issues and helping them navigate the progression of their disease.