Matt Olin

Matt has a B.A. in English and Film from UNC-Chapel Hill and a MFA in Theater Producing from Columbia University. He specializes in copywriting and brand creation. For The Ivey, he writes many of our external and internal communication pieces, as well as oversees the creative development and written content of our website, printed collateral, social media, and more. He also maintains a secret life as a theatre producer, and has produced projects everywhere from Broadway (high profile) to hotel rooms (covert). Matt has a deep passion for connecting, supporting and inspiring fellow creative people throughout the Charlotte region.
Where were you born and/or where did you grow up? I was born in Oneida, NY – yup, the same place where they make the silverware that is then given away on The Price Is Right. My childhood involved a lot of moving around, but by the time I was in the 5th grade, Charlotte became home!
Favorite way to spend a weekend or a Sunday afternoon? Playing around town with my amazing wife and beautiful daughter.
What excites you about your work at The Ivey and the contribution you make here? "As a writer, anytime I realize there's an amazing story waiting to be told, I get excited. The Ivey, its staff, its members and their families all have amazing stories. It's an honor to play my part in sharing those stories with the Charlotte community, and to help communicate the remarkable work that this organization is doing."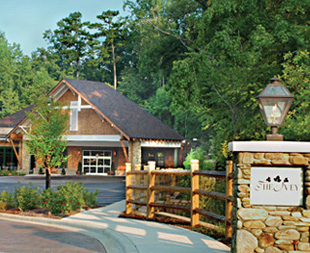 Schedule a Tour!
Take a virtual tour here and then schedule your personal tour to see for yourself how The Ivey is the perfect solution!