Eileen Behan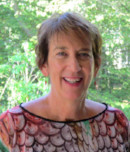 Eileen has more than 30 years experience in human resources at Duke Energy Corporation with expertise in employee relations, performance management, and training. She joined The Ivey in April 2008 and serves as family resources director. At The Ivey, Eileen is responsible for inside sales, tours and enrollment of new members. In this role, she manages new and ongoing relationships with families and members and serves as resource and support to family caregivers.
Where were you born and where did you grow up? I was born and raised in Buffalo, N.Y., until age 13. I moved to a suburb of Cleveland, Ohio until age 23 and then moved to Charlotte!
Favorite way to spend a weekend or a Sunday afternoon? Actually, I like to have a quiet weekend. I like sleeping in, watching old movies on TMC, getting caught up on personal emails and taking naps!
What excites you about your work at The Ivey and the contribution you make here? Helping families, helping members. Loving the families and members –and being loved by them.