Jessica Martin, MA, CCC-SLP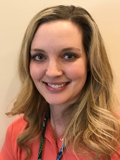 Jessica earned an undergraduate and master's degree in communication disorders from Appalachian State University. She has worked as a speech-language pathologist with Genesis Rehabilitation Services since 2008 and as a program manager of rehab since 2010. In 2012, she received master clinician status, focusing in dementia. Part of her role at The Ivey involves monitoring the current stage of dementia of each member and educating the family on recommendations for successful interactions through cueing, retraining and compensating for the member's specific stage.
As the on-site program manager for Genesis Rehabilitation Services at The Ivey, she also provides valuable ongoing recommendations for physical, occupational and speech therapies to help the individual member regain and compensate for their specific needs.
Where were you born and where did you grow up? I grew up in Greenville, S.C.
Favorite way to spend a weekend or a Sunday afternoon? I love spending weekend time at the pool with my family.
What excites you about your work at The Ivey and the contribution you make here? I enjoy seeing the difference The Ivey makes in the lives of our members and their families. It's so amazing to hear how our program has made such a positive impact on their lives.