Stacy Flemming, CMC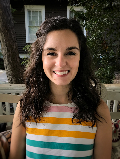 Stacy brings over seven years of experience serving individuals living with dementia and supporting their families. After receiving her bachelor's degree in recreational therapy from the University of North Carolina Wilmington, she began her career as a licensed recreational therapist and memory care coordinator in the long-term care industry. Inspired by the potential to initiate change within the industry, Stacy earned her master's degree in healthcare administration from Seton Hall University. She is a certified Aging Life Care Specialist.  She transitioned from wellness to administration and now utilizes her well-rounded experience to focus her efforts on promoting a holistic and individualized approach to wellness, to foster a mindful and dignified living and aging experience.
Where were you born and where did you grow up? I was born and raised in Charlotte and I am now considered 'one of those unique Charlotte natives!' I feel pride for where my city is headed and excited to see how organizations like The Ivey impact our community.
Favorite way to spend a weekend or a Sunday afternoon? One of my favorite things about Charlotte is its close proximity to both the mountains and the beach. During the weekend you can find me traveling to either destination or spending time with my family and friends. As a very close-knit family, we are always together. Whether cooking up a storm, traveling to see our favorite musicians, camping, watching movies or spending time outside, we share in many moments of laughter and joy!
What excites you about your work at The Ivey and the contribution you make here? I have always looked up to The Ivey as a community leader in how to best serve those living with Alzheimer's disease and related dementias. As a memory care coordinator I was focused on continuous improvement and I visited The Ivey frequently to gain their expert advice. Now as a member of their team, I am excited each day to simply witness the excellent quality of the services that they provide. Down to each detail it is truly a whole-family approach and I am blown away by just how much they care.  My role as business development manager is to spread awareness of what The Ivey provides to the community. In this way, I am able to serve those families within my community on their own journey of managing this disease. In addition, The Ivey is extremely committed to giving back to their community. Through The Ivey I am able to be a community influencer by serving on the committees aiming to improve the way Charlotte serves all of those who call this city home. I am inspired each day to be an advocate and a resource.